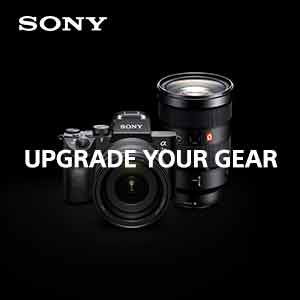 Sony Trade-in and Trade-up
Are you ready to upgrade to a new Sony camera or lens? Well, now is a perfect time! From now until June 1st, 2023, trade in any working interchangeable lens camera or lens (digital or film) when you purchase an eligible Sony camera or lens and get up to a $500 BONUS CREDIT. Don't sleep on this opportunity to get incredible value out of your old gear.
Upgrade to Sony in 3 Easy Steps:
Trade-in: Trade in any qualified interchangeable lens camera or lens to a McBain location for an appraisal (please allow up to 5 business days for appraisal).
Trade-up: Once the appraisal is complete, you get the value of your qualified gear, plus the Bonus Credit1 put towards your purchase of one select Sony product.
Get Shooting: Having smartly saved a truckload of money, you are now ready to get out shooting with your new Sony gear!

1 Sony Bonus Credit is limited to one per customer and applies only to one (1) Sony camera or one (1) lens. Trading in multiple lenses and bodies will not result in additional Bonus Credits.



Not sure which Sony camera is right for you? Check out our Sony Try & Buy program to test drive some great Sony gear.




Sony Camera Trade-In Bonuses

Product
Trade-in Bonus
Sony Alpha 1 Body
$500
Sony a7C Body
$200
Sony a7C with 28-60mm f4-5.6 Lens
$200
Sony A7 III Body
$200
Sony A7 III with 28-70mm OSS Lens
$200
Sony A7 IV Body
$300
Sony A7 IV with 28-70mm OSS Lens
$300
Sony Alpha a7R IV (A) Body
$300
Sony Alpha a7R III (A) Body Only
$200
Sony Alpha a7S III Body
$500
Sony Alpha A9 II Body
$500
Sony FX3 Full-Frame Cinema Camera
$350
Sony Lens Trade-In Bonuses

Product
Trade-in Bonus
Sony FE 100-400mm F4.5-5.6 OSS GM Lens
$150
Sony FE 12-24mm f2.8 GM Lens
$200
Sony FE 135mm f1.8 GM Lens
$200
Sony FE 14mm f1.8 GM Lens
$100
Sony FE 16-35mm F2.8 GM Lens
$100
Sony FE 200-600mm OSS G Lens
$150
Sony FE 20mm f1.8 G Lens
$50
Sony FE 20-70mm f4.0 Lens
$150
Sony FE 24-105mm F4.0 G OSS Lens
$100
Sony FE 24-70mm F2.8 GM Lens
$100
Sony FE 24mm 1.4 GM Lens
$100
Sony FE 24mm f2.8 G Lens
$50
Sony FE 35mm f1.4 GM Lens
$100
Sony FE 40mm f2.5 G Lens
$50
Sony FE 50mm f2.5 G Lens
$50
Sony FE 50mm f1.2 GM Lens
$150
Sony FE 70-200mm f2.8 GM OSS II Lens
$200
Sony FE 85mm F1.4 GM Lens
$100
Sony FE 85mm F1.8 Lens
$50
Sony FE 90mm F2.8 Macro G OSS Lens
$100
Sony FE PZ 16-35mm F4.0 G Lens
$100