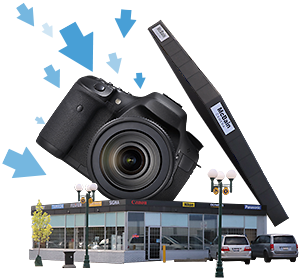 Trade-in your old equipment for new camera gear!
Get value out of your old photographic equipment! We will consider most cameras, lenses, flashes, etc for trade1 towards any new or used photographic equipment we carry.
In order for us to evaluate the value of your gear we require up to 7 business days to test the equipment to ensure full functionality and condition, evaluations will be processed in the order they are received. Your equipment can be brought to any McBain Camera location for trade.
For questions and inquiries about trading in your gear please contact us at TradeIn@mcbaincamera.com.
Visit the McBain location nearest you to drop your equipment off for evaluation.
BONUS 25% Trade-in Value
Day-dreaming about a new camera? Got old photo gear? Now is the perfect time to upgrade! From October 16th - 30th get a bonus 25% value for your photo equipment trade-ins at McBain. Visit any McBain location to take advantage of this limited time offer.
COVID-19 Safety Procedures: Equipment brought in for Sensor Cleanings, Lens Calibrations or Trade-In Evaluations will be quarantined for three days before proceeding with service.
McBain Trade-In Grading System

Grade
Description
LIKE NEW (LN)
The equipment is 99-100 percent of NEW, items often include original box and instructions.
LIKE NEW MINUS (LN-)
The rating of the equipment is 97-99 percent of the original condition. Only the closest inspections will reveal slight wear. Perfect glass but the box and accessories may not included.
EXCELLENT PLUS (EX+)
Rates 90-96 percent of the original condition. Exceptionally nice, but may have slight wear on finish visible only under close inspection. Glass will be very clean.
EXCELLENT (EX)
80-90 percent of original. Shows moderate wear for the age of the item, with the possibility of small dings or blemishes. Glass may have slight blemishes but will not affect picture quality.
BARGAIN (BGN)
Priced to sell, these items are 70-79 percent of original condition. More than average wear for the age of the item, and may have dents, dings or finish loss. Glass may have marks or blemishes, but should not affect image quality.
UGLY
The look only a photographer would love. Referrences the equipment is rough, with multiple impressions in metal, excessive finish loss and brassing. Glass will have marks, fungus and / or haze which will affect picture quality.
AS IS
Useable for parts only. Equipment may or may not work. No warranty or return privileges.
1. Value of trade-in equipment will vary due to condition, demand and current on-hand used inventory.