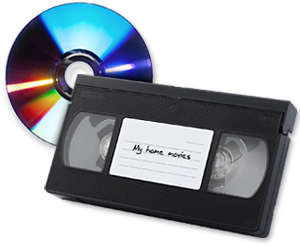 Video Transfers
We can transfer your old home movies to DVD for easy entertainment at the next family gathering; duplicate your wedding videotapes for friends and relatives far away; or convert videotapes from Europe or Asia to North American standard allowing you to enjoy video sent from family and friends overseas!
For more information on video transfers and turn around times please call us at 780-420-0404 or email us at video.transfers@mcbaincamera.com.
Transfers to DVD

Source: VHS, Mini DV, Video 8, Hi8 or Digital 8
$45 per tape*** (each tape will have it's own DVD)
$60 per tape for combining multiple tapes on to a single DVD*
Editing
Add: $60 per hour of video charge for any editing
DVD Copies
$10.00 per copy (Includes DVD & case)
Hard Drive & Solid State Memory Transfers to DVD

Standard Definition (Maximum 2 hours per DVD)
$60.00 per DVD
High Definition
$90.00 per Blu-ray Disc
Transfers to .MOV or .AVI Files

Source: VHS, Mini DV, Video 8, Hi8 or Digital 8
20 minutes of video
$75.00
30 minutes of video
$100.00
60 minutes of video
$170.00
Prices include DVD(s). Please allow 1-2 weeks for delivery.
International Format Conversion

Source: VHS, DVD, Video 8, Hi8 or Digital 8 (PAL, SECAM, NTSC)
30 min
60 min
90 min
120 min
160 min
180 min
240 min
To VHS
$24.95
$24.95
$29.95
$36.95
$41.95
$49.95
$60.95
To DVD
$55.00
$55.00
$75.00
$85.00
$95.00
$115.00
$135.00
To Mini DV
$59.95
$69.95
$95.00
$106.95
$116.95
$126.95
$145.95
Source: Mini DVD (NTSC)
30 min
60 min
90 min
120 min
160 min
180 min
240 min
To VHS
$24.95
$24.95
$29.95
$36.95
$41.95
$49.95
$60.95
To DVD
$55.00
$55.00
$75.00
$85.00
$95.00
$115.00
$135.00
To Mini DV
$59.95
$69.95
$95.00
$106.95
$116.95
$126.95
$145.95
Source: Mini DV, DVD, Hi8 (PAL)
30 min
60 min
90 min
120 min
160 min
180 min
240 min
To VHS
$45.00
$45.00
$55.00
$60.00
$65.00
$75.00
$90.98
To DVD
$59.95
$69.95
$95.00
$106.95
$116.95
$126.95
$135.95
8mm Projector Film to DVD

Feet of film
Estimated Cost
50
$85.00
100
$90.00
150
$100.00
200
$105.00
250
$110.00
300
$120.00
350
$125.00
400
$135.00
450
$145.00
500
$150.00
550
$235.00
600
$240.00
650
$250.00
700
$255.00
750
$260.00
800
$270.00
850
$275.00
900
$285.00
950
$295.00
1000
$300.00
3 inch diameter reel = 50 feet
5 inch diameter reel = 200 feet
7 inch diameter reel = 400 feet

1 hour of video is approximately 1000 feet for 8mm
16mm Projector Film to DVD

Feet of film
Estimated Cost
50
$85.00
100
$90.00
150
$100.00
200
$115.00
250
$120.00
300
$130.00
350
$140.00
400
$150.00
450
$160.00
500
$165.00
550
$175.00
600
$185.00
650
$195.00
700
$200.00
750
$210.00
800
$220.00
850
$228.00
900
$240.00
950
$250.00
1000
$260.00
3 inch diameter reel = 50 feet
5 inch diameter reel = 200 feet
7 inch diameter reel = 400 feet

1 hour of video is approximately 2000 feet for 16mm
Audio Conversions from Casette to CD

Single audio track
$50.00 per hour of audio
Separated into tracks
$75.00 per hour of audio
*Minimum $30 charge
**Recordings longer than 2 hours will require more than one DVD