Fuji GF 1.4x Teleconverter WR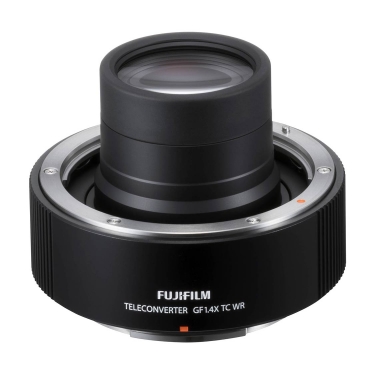 600019979
Fujifilm
$1059.99
Online stock levels are not available
for this item. Please contact us to verify.
The GF1.4X TC WR is a 1.4x teleconverter for G Mount. Attaching the teleconverter to GF250mm F4 R LM OIS WR allows for telephoto shooting at a focal length of 350mm (approximately 277mm in 35mm format equivalent) while maintaining superior image quality. The maximum aperture is reduced by one F stop. As both the lens and the teleconverter are high quality, there's hardly any deterioration in MTF when the teleconverter is attached.
Lens configuration: 7 elements 3 groups
Focal length: 1.4x that of original lens
Max. aperture: 1 additional stop
Min. aperture: 1 additional stop
Focus range: Approx. same as that of original lens
Max. magnification: 1.4x that of original lens
External Diameter x Length (approx., distance from camera lens mount flange): φ82mm x 26.7mm
Weight (approx., excluding caps): 400g
Lens cap
Lens rear cap RLCP-002
Lens pouch