Canon LV-WX300ST Portable Data Projector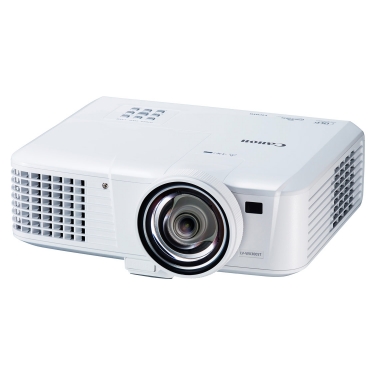 SPED ORD 9880B002
Canon
$839.95
Special Order Item
Please allow 2 to 3 weeks for delivery, cancellations or returns subject to 20% restocking fee.
The Canon LV-WX300ST Short Throw Multimedia Projector will fill a 5 ˝ foot wide screen from just under 2 ˝ feet away. With crisp native WXGA resolution (1280 x 800), a brilliant 3000 Lumens and an impressive 2300:1 contrast ratio, this projector brings high quality clear images at an affordable price. Its flexibility in placement can make presenting in challenging spaces easier.
The impressive feature list of the LV-WX300ST goes a long way in contributing to its value. An HDMI input allows various compatible sources including computers, Blu-Ray players and cable boxes to have their high definition signals directly projected. The DLP® BrilliantColor™ Technology system, with its 6-colour wheel, ensures enhanced brightness and rich, realistic colours. In addition, the filter-free design and long lamp life up to 6000 hours in "Eco" (Economy) mode help contribute to simplified maintenance as well as cost savings.
Regardless of your source material, be it text, colourful graphs/charts, detailed photos or video, the LV-WX300ST will have a setting to help maximize their impact. Multiple image modes deliver great flexibility in adjusting image quality to match your presentation needs. If your projection surface isn't white, the screen colour correction feature helps ensure that your image quality will be optimized. Compatibility with the DLP-Link system means you can enjoy engaging 3D content with the LV-WX300ST as it seamlessly communicates with a variety of DLP-Link enabled active glasses.
The dimensions of 11.1" x 4.64" x 10.53" (282 x 117.9 x 267.5mm) and a weight of 6.17 lbs (2.8kg) make the Canon LV-WX300ST compact, light and convenient to use. Simple to set-up, it will be easy to bring this projector along wherever you need to present. Direct Power Off lets you pull the plug from the projector as soon as you're done – so you can quickly be on your way. With a high quality built-in 10W speaker your presentation can also sound good. Built-in connectors give added flexibility for integrating with a compatible external sound system.
The LV-WX300ST brings performance, features and flexibility to a host of venues, including corporate offices, classrooms, on-the-road sales or training presentations at an attractive price. Plus you can have the peace of mind which comes with the backing of Canon's 3-year Limited Warranty and Projector Protection Program ("Triple P").
Imaging Device: 0.65" DMX x1
Aspect Ratio: 16:10
Native Resolution: XGA (1280 x 800)
Brightness: 3000 Lumens (Normal) / 2100 Lumens* (Eco) *Brightness in Eco Mode is only a calculated value, and is not guaranteed as specification.
Uniformity: 70%
Contrast Ratio: 2300:1
Digital Keystone (Vertical): V -18° / +12°
Projection Lens: F=6.9mm, F2.60
Zoom: 2x (Maximum), Fixed
Focus: Manual
Screen Size: 70" - 120"
Throw Distance: 29.1" - 49.9" (0.74 - 1.26m)
Throw Ratio at 100": 0:49:1
Image Mode: Presentation, Standard, sRGB, Movie, User 1, User 2
Colour Adjust
Wall Correction: Light Yellow, Pink, Light Green, Blue, Blackboard
Mounting: Front Table, Rear Table, Front Ceiling, Rear Ceiling
Tilt Angle: Front: 1 Rear: 1 (the angle of elevation of up to 6°)
Analog PC Input: UXGA / SXGA+ / WXGA+ / FWXGA / WXGA / SXGA / XGA / SVGA / VGA / MAC
Digital PC Input: UXGA / SXGA+ / WXGA+ / FWXGA / WXGA / SXGA / XGA / SVGA / VGA
Analog Video Input: NTSC / PAL / SECAM / NTSC4.43 / PAL-M / PAL-N / PAL-60
Component Input: 1080p / 1080i / 720p / 576p / 576i / 480p / 480i
Digital Video Input: 1080p / 1080i / 720p / 576p / 480p
Mini Dsub 15 x2: Analog PC / Component video input
HDMI: Digital PC / Digital Video Input
Mini DIN4: S-Video Input
RCA: Video Input
Mini Jack x2: Audio Input x1, Audio Output x1
Dsub9: RS-232C Connection
RJ-45: Network Connection (100BASE-TX / 10BASE-T)
USB type B: Service Port
Wireless Remote: Infrared
Internal Amplifier: 10W, Mono
Type: Super-high Pressure Mercury Lamp
Life: 4000 Hours (Normal) / 6000 Hours (Eco)
Power: 210W (Normal) / 170W (Eco)
Fan Noise (Quiet/Normal): 36db (Normal) / 29dB (Eco)
Power Consumption: 330W (Normal) / 270W (Eco)
Standby Power: 3.0W (Normal) / 0.5W (Eco)
Power Voltage: AC 100 ~ 240V, 50/60 Hz
Operating Temperature: 32°F - 104°F (0°C - 40°C)
Dimensions (W x H x D): W: 11.1"(282 mm), H: 4.64"(117.9mm), D:10.53"(267.5mm)
(including protrusion)
Weight: 6.17lbs
Warranty: 3 Years parts and labour / 120 Days lamp life