CANON LV-7392A DATA PROJECTOR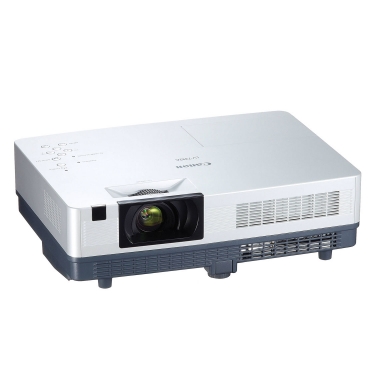 SPED ORD 6827B002
Canon
$759.00
Special Order Item
Please allow 2 to 3 weeks for delivery, cancellations or returns subject to 20% restocking fee.
The Canon LV-7392A is an affordable XGA wide screen resolution (1024 x 768) LCD projector, with 3000 lumens of brightness and an impressive 2000:1 contrast ratio. The LV-7392A delivers crisp clarity and vivid image quality even in bright environments.
With an HDMI input, high definition 1080p signals from satellite and digital cable boxes as well as Blu-Ray players can be projected in high quality, as can digital images. In addition, the projector features a lamp lighting system that can deliver up to 6000 hours of lamp life in Eco Mode. With a weight of less than 6.6 lbs. (3.0kg) and compact dimensions, the LV-7392A offers flexibility in portable use or installation. Your maintenance schedule will be simplified with its filter life of 5500 hours.
A host of audio inputs and outputs allow great flexibility in managing the multimedia experience of your presentations. Built-in 10W speakers deliver high-quality sound with no extra effort and the provision of a wired microphone input means the LV-7392A can support your presentation with no need for extra audio equipment. Great attention has been paid to ease of maintenance, with features such as direct power off and easily replaced lamps adding to the convenience of using the LV-7392A.
The LV-7392A offers the size, features, and flexibility needed by educators especially for small venues, such as classrooms and laboratories. You will find great value and capability in this high-performance, affordable LCD projector.
LV-7392A LCD Projector with Lens Cap
Remote Control (with 2 AAA batteries)
VGA cable
Power cable
Quick Start guide(Book)
Users Manual (CD-ROM)
Warranty card