Canon MA-400 Microphone Adapter For C300 MK II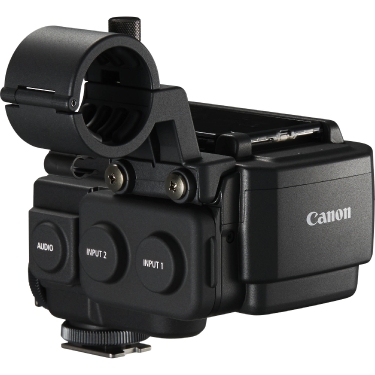 0873C001
Canon
$629.95
Online stock levels are not available
for this item. Please contact us to verify.
This MA-400 Microphone Adapter from Canon is compatible with the Cinema EOS C300 Mark II and XC15 4K camcorders. By attaching the microphone adapter to your camcorder, you can use the adapter's input terminals to record audio independently to two audio channels from an external microphone or analog audio input source with an XLR connector. The microphone adapter supports 48V phantom power, which is powered by the camcorder's power supply.
Compatibility Canon Cinema EOS C300 Mark II and XC15 4K Camcorders
Input Terminals 2 x 3-Pin XLR Female (Pin 1: Shield / Pin 2: Hot / Pin 3: Cold)
Sensitivity Mic: -60 dBu / 600 Ohms
Line: 4 dBu / 10 kOhms
(Manual Volume Center, Full Scale -18 dB)
Phantom Power 48 V
Audio Output Proprietary Connector for Connection to Camcorder
Microphone Holder For Microphones with a Diameter of 0.75-0.79" / 19-20 mm
Dimensions 5.0 x 4.6 x 4.5" / 12.8 x 11.7 x 11.5 cm
Weight 12 oz / 340 g