Panasonic HC-X920K SD HIDEF Video Camera - Open Box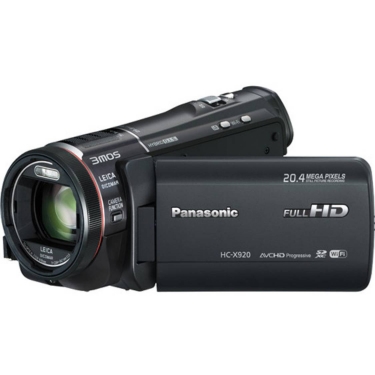 DISC HCX920K
Panasonic
$1099.95
Sale $399.95
Open box item. Low Quantities
Please contact us to verify availability.
The WiFi-enabled X920 3MOS BSI Pro HD video camcorder offers the utmost in shooting flexibility. Enjoy professional grade HD video you can share from anywhere. Discover its bright LEICA F1.5 12x optic system with a manual focus ring and electronic viewfinder for professional control in an easy to use design. When you're on the go, Shoot & Share lets you connect via WiFi using the Panasonic Image Connect App. Use it for remote shooting, easy share, instant transfer and remote viewing. You can even stream events live on Ustream as they are being recorded in Full HD resolution. At home, enjoy easy WiFi connections with save & playback, cloud sync, wireless TV playback, auto transfer and wireless print.
Amazing 3MOS BSI Ultrafine HD Video Quality
Bright Leica F1.5 12X Optics
29.8mm Wide-Angle, Intelligent 25x Zoom with 5-Axis HYBRID O.I.S.+
Level Shot Function
Crystal Engine Pro ll
Real Time Broadcasting with Full-HD Recording
20.4-Megapixel Still Picture Recording
Remote WiFi Mobile Device Tether Plus Ustream Sharing
Remote Shooting
Highlight Playback and Easy Share
Two-Way Remote Home Monitor Networking
Manual Focus Ring
Electronic View Finder (EVF)
Level Gauge
5.1-Ch Surround Sound System
iA (Intelligent Auto) / iA Plus
3.5-inch Wide LCD
Recording Media: SD/SDHC/SDXC Memory Card