Lowepro Nova 180 AW II Bag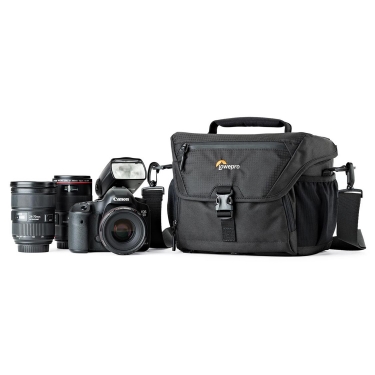 LP37123
Lowepro
$119.95
Online stock levels are not available
for this item. Please contact us to verify.
Our iconic Nova camera bag continues to evolve to protect the latest in camera technology. The newest edition of this timeless camera shoulder bag maintains premium protection from the elements for a pro-depth DSLR camera with attached 24-105mm lens plus 3-4 additional lenses and flash or compact photo drone.
Protective. All Weather AW Cover™, waterproof zipper and overlapping lid provide premium protection from the elements
Customizable: Flexible interior dividers and full padding deliver secure, customizable gear protection for a pro-depth DSLR camera with attached 24-105mm lens or compact photo drone, 3-4 additional lenses and flash
Portable: Ultimate storage and accessibility, at home and on location; easily attaches to rolling luggage via trolley sleeve
Versatile: Adjustable/removable shoulder strap, cushioned grab handle and built-in belt loop provide comfortable carrying options
Accessible and Secure: Interior lid, front and side pockets plus rear zip pocket offer easy access and secure storage for smartphone, memory cards, cables and other small items
Fits: Pro-depth DSLR with attached 24-105mm lens or compact photo drone, 3-4 additional lenses, Flash
Internal Dimensions: 25.5 x 15 x 19.5 cm (10.04 x 5.91 x 7.68 in)
External Dimensions: 29 x 23 x 24 cm (11.42 x 9.06 x 9.45 in)
Weight: 0.67 kg (1.47 lbs)