Manfrotto XPRO Video 4-Section Monopod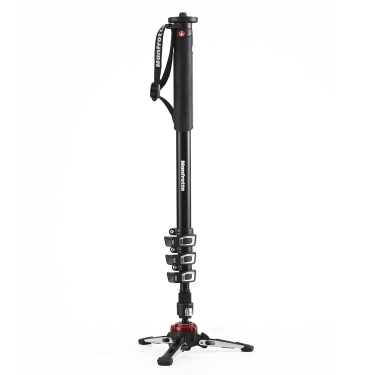 MVMXPROA4
Manfrotto
$299.95
Online stock levels are not available
for this item. Please contact us to verify.
The new XPRO Monopod Aluminium 4-section is a professional full fluid video monopod made to satisfy videographers who leverage the height of their monopod to get above crowds and to achieve a wide range of shooting angles. These state-of-the-art Manfrotto legs have inherited the perfect combination of rigidity and locking safety of professional tripod ranges, like the 190 collection and the 055 collection.
FLUIDTECH base for smooth movements in all directions
Great operating height for overhead shooting
Newly designed rubber leg warmer for fast & secure movement
Quick power lock reliably secures & ensures super-fast set up
Versatile 3/8'' and 1/4'' screws for video heads and cameras
Weight: 1200 g
Collection/Series: XPRO Monopod+
Material: Aluminum
Min Height: 68 cm
Maximum Height: 192 cm
Fluid Base
Legs Tube Diameter: 19, 22.5, 26, 30 mm
Safety Payload Weight: 8 kg
Leg Sections: 4
Top Attachment: 1/4? screw, 3/8? screw
Head Type: Video/Fluid Head
Closed Length: 68 cm
Front Tilt: -19° +19°
Leg Type: Single
Leg Lock Type: Flip Lock
Maximum Working Temperature: 60 C
Minimum Working Temperature: -20 C
Panoramic Rotation: 360
Plate Type: fixed - with 1/4-20? and 3/8? screws
Upper Disc Diameter: 60 mm