Manfrotto XPRO 5-Section Monopod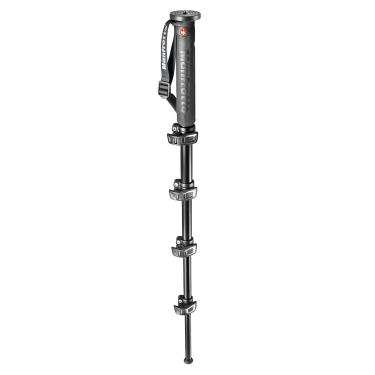 MPMXPROA5
Manfrotto
$159.95
Online stock levels are not available
for this item. Please contact us to verify.
The new 5-section XPRO Monopod is a brand new professional camera monopod made to satisfy photographers who need a highly portable, high-performance solution they can easily carry when they are travelling. The MPMXPROA5 is the most compact Manfrotto monopod in the new range. It is easily packable in a backpack or messenger camera bag. And because portability can't come at the cost of performance, the new MPMXPROA5 photo monopod has the state of the art capabilities of the Manfrotto 190 collection and 055 collection legs, providing rigidity and locking safety on a professional level.
Photo monopod dedicated to travellers
Fits in backpacks and messenger camera bags
New rubber leg warmer design for fast & secure movement
Quick Power Lock system for rapid, effortless and reliable set up
Compatible with Manfrotto's FLUIDTECH base
Weight: 700 g
Collection/Series: XPRO Monopod+
Material: Aluminum
Min Height: 41 cm
Maximum Height: 141 cm
Legs Tube Diameter: 30, 26, 22.5, 19, 15.5 mm
Safety Payload Weight: 6 kg
Leg Sections: 5
Top Attachment: 1/4? screw, 3/8? screw
Closed Length: 41 cm
Leg Type: Single
Leg Lock Type: Flip Lock
Maximum Working Temperature: 60 C
Minimum Working Temperature: -30 C
Plate Type: fixed - with 1/4? - retractable 3/8? screw
Upper Disc Diameter: 60 mm