Sony 70-200mm F2.8 G II SSM Lens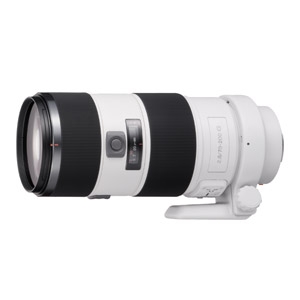 SAL70200G2
Sony
$3699.95
Online stock levels are not available
for this item. Please contact us to verify.
february-lenses-sony Get closer to the action with a G-Series telephoto zoom lens featuring an uncommonly fast f/2.8 aperture with quiet, high-speed SSM (Super Sonic wave Motor) auto-focus precision ideal for long-distance sports, wildlife photography and more.
Non-rotating Focusing Ring : Yes
Distance Scale : Yes
Distance Encoder : Yes
Minimum Focus Distance : 4' (1.2m)
Magnification : x 0.21
Lens Groups-Elements : 16 groups, 19 elements
Filter Diameter : 77 mm
Lens Type : Telephoto & Telephoto Zoom
Tele-converter Compatibility - 2.0x : Yes
Lens Weight : 2 lbs 15 oz (1300g)
Aperture (Max.) : f/2.8
Aperture (Min.) : f/32
Tele-converter Compatibility - 1.4x : Yes
Focus-hold Button : Yes
SSM Focusing : Built-in
Focal Length (35mm equivalent) : APS: 105
Aspheric Elements : no aspheric
Aperture Blade : 9 blades (Circular aperture)
Dimensions (Approx.) : 3 1/2 x 7 3/4" (87 x 196.5mm)
Weight (Approx.) : 2 lbs 15 oz (1300g)